Winter 2022 In Person Program Schedule
Group Exercise YMCA Flyer – Winter 2022
Winter 2022 Virtual Program Schedule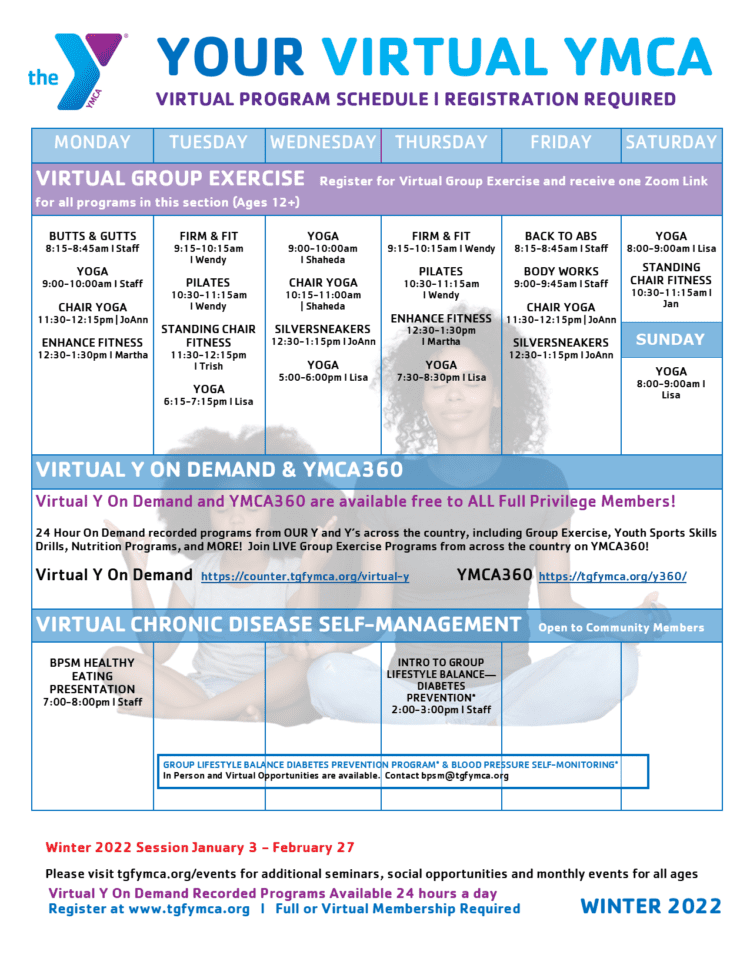 Your Virtual YMCA Flyer – Winter 2022
Winter 2022 Member Updates
The Gateway YMCA is Here For YOU and YOUR FAMILY!  View Our Digital YMCA Program Guide at www.tgfymca.org/program-guides
EXPANDED BRANCH HOURS: Visit www.tgfymca.org/locations for all branch hours
In case you missed it, we expanded Branch Hours at EVERY BRANCH in September!

This includes 6:00am opening Monday-Friday at the Rahway Branch & Wellness Center Branch
Later Hours & More Weekend Hours as well!
EXPANDED ACCESS & SERVICES:
Y BRANCH FACILITY UPDATES:
Our Rahway Gymnasium & Studio are temporarily closed as we recover from Hurricane Ida.  Members may continue to utilize the Basketball Gymnasium at our other branches.
Winter 2022 Program Registration Begins:
Full Privilege Members – Monday, December 6
Basic Members – Monday, December 13
Winter 2022 Program Session:  January 3 – February 27 
Swimming Lessons, Youth Sports, Dance, Gymnastics, Tae Kwon Do and other Youth Programs!
Youth Dance, Gymnastics and Tae Kwon Do programs are available at the Five Points Branch
Youth Sports programs are available at the Elizabeth Branch, Five Points Branch and Rahway Branch
Water Exercise Options 5 Days a Week:
Water Exercise programs are offered 5 days a week including Water Exercise and Aqua Zumba at the Five Points Branch and Water Aerobics and Deep Water Exercise at the Rahway Branch
Expanded YMCA Child Care Services:
Virtual Program Updates:
We've expanded our Virtual program options including member favorites, community chronic disease self-management programs, youth programs, family programs and events.
REGISTER HERE for Virtual Group Exercise for access to all Group Exercise programs on the top of the schedule!
Virtual Chronic Disease Self-Management programs are open to the community and include BPSM Healthy Eating Presentation, Blood Pressure Self-Monitoring, Diabetes Empowerment Education Program and Healthy Living Behavior Change  REGISTER HERE
Make a difference in our community!  SIGN UP for Virtual Togetherhood (Must be an active YMCA Member, minimum age of 18)
Virtual Y On Demand:
Recorded YMCA Programs and more, available 24 Hours a Day HERE
Our YMCA has EXPANDED our Virtual YMCA opportunities for all active Full Privilege YMCA Members and Full Virtual Members!  Visit YMCA360
Download our NEW Mobile App!  M-Dock HERE 
Virtual WISE Adult Services:
Upcoming Events:
YMCA Open House January 13-15

Bring your friends & family to the Y!
We're Hiring!  Make a difference in your community as part of The Gateway Family YMCA staff team.  APPLY HERE 
Part Time Positions Available:

Certified Lifeguards & Swim Instructors
Before/After School Counselors
Group Exercise Instructors (evenings & weekends)
Welcome Center (evenings & weekends)
Child Care Teachers & Assistant Teachers

Full Time Positions are posted at ymca.org
Pool Schedule – Five Points Winter 2022