August Updated Summer 2022 In Person Program Schedule - Classes subject to change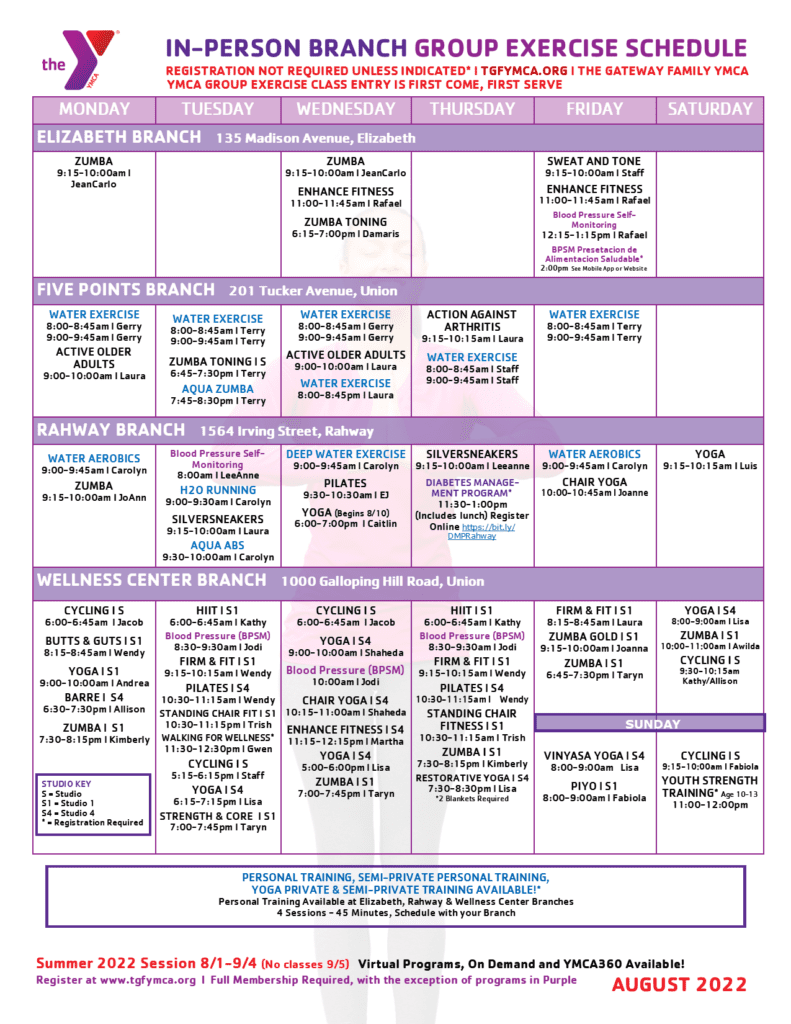 Group Exercise YMCA Flyer – Summer 2022 August
August Updated Summer 2022 Virtual Program Schedule - Classes subject to change
Your Virtual YMCA Flyer – Summer 2022
Summer 2022 Member Updates
Please review AUGUST schedules below for updated information beginning 8/1.
The Gateway YMCA is Here For YOU and YOUR FAMILY!  View Our Digital YMCA Program Guide at www.tgfymca.org/program-guide
View our Schedules for Swimming at the Five Points Branch or Rahway Branch or Open Basketball or Soccer at the Elizabeth Branch  or Five Points Branch during scheduled hours.  Usage is capacity controlled and first come, first serve.  Please review the Web Site or Mobile App.
Our YMCA has EXPANDED our Virtual YMCA opportunities for all active Full Privilege YMCA Members and Full Virtual Members!  Introducing YMCA360 
Our YMCA has UPGRADED our Member Mobile App! Please DOWLOAD M-Dock
Summer 2022 Program Registration Begins:
Full Privilege Members & Virtual Members – Monday, June 6
Basic Members & Community Members – Monday, June 13
Summer 2022 Program Session:  June 27 – August 28  (Some Programs EXTENDED through 9/5 – See Schedules)
Swimming Lessons, Youth Sports, Dance, Gymnastics, Tae Kwon Do and other Youth Programs!
Youth Dance, Gymnastics and Tae Kwon Do programs are available at the Five Points Branch
Youth Sports programs are available at the Elizabeth Branch, Five Points Branch and Rahway Branch
Make a difference in our community!  SIGN UP for Togetherhood (Must be an active YMCA Member, minimum age of 18)
Join our Summer Swim Team!
The Wellness Center Branch is hosting a Walking Club
We've EXPANDED our Personal Training including Semi-Private and Yoga Personal Training
Wellness Center Branch Cycling Studio is back!
We've ADDED additional Summer Pool Hours for your family!
Water Exercise Options 5 Days a Week:
Water Exercise programs are offered 5 days a week including Water Exercise and Aqua Zumba at the Five Points Branch and Water Aerobics and Deep Water Exercise at the Rahway Branch
Advance registration is no longer required.  Programs are first come, first serve.
Expanded YMCA Child Care Services:
Virtual Program Updates:
We've expanded our Virtual program options including member favorites, community chronic disease self-management programs, youth programs, family programs and events.
REGISTER HERE for Virtual Group Exercise for access to all Group Exercise programs on the top of the schedule!
Many Virtual Chronic Disease Self-Management programs are open to the community. REGISTER HERE
Virtual Y On Demand:
Recorded YMCA Programs and more, available 24 Hours a Day HERE
YMCA360 – Our YMCA has EXPANDED our Virtual YMCA opportunities for all active Full Privilege YMCA Members and Full Virtual Members!  Visit YMCA360
Download our Mobile App!  M-Dock HERE 
Virtual WISE Adult Services:
Upcoming Events:
Senior Health & Fitness Day 5/25
Taking are of Yourself – Tips for Caregivers Virtual Seminar 5/31 2-3pm  Register at www.tgfymca.org/events
Memorial Day 5/30 In honor of Memorial Day, the YMCA Branches & Programs will remain closed.  Members are encouraged to utilize YMCA360 or Virtual Y On Demand
SACC Before and After School Care Registration for 2022-2023 Begins 5/31 (See page for details)
YMCA Summer Program Session Registration Begins 6/6 (Full Privilege Members), 6/13 (Basic Program Members)
Happy Father's Day 6/19 – All Dads are welcome to visit the Y and receive a complimentary guest pass for the day
YMCA Session Break Mini Session 6/20 – 6/26
YMCA Summer Day Camp Begins 6/27
YMCA Summer Program Session Begins 6/27
4th of July In honor of the 4th of July, the YMCA Branches & Programs will remain closed on 7/4/22.  Members are encouraged to utilize YMCA360 or Virtual Y On Demand
Find Your Summer Open House 7/28-7/31 – Bring Your Family & Friends!
Find Your Summer Membership Special 7/28-7/31.  Join the Y at www.tgfymca.org/join-the-Y and use code FAM for $0 Joiner Fee on all Family Memberships!
Fall 1 Program Session Registration Begins 8/15 for Full Privilege Members & Virtual Members, & 8/22 for Basic Members & Community Members
Session Break (Swimming Lessons & Youth Sports Programs Only) – We may have some updated Pool Schedules the week of 8/29-9/5 – Please check back
Labor Day In honor of Labor Day, the YMCA Branches & Programs will remain closed on 9/5.  Members are encouraged to utilize YMCA360 or Virtual Y On Demand
Fall 1 Program Session Begins Tuesday, 9/6
We're Hiring!  Make a difference in your community as part of The Gateway Family YMCA staff team.  APPLY HERE 
Part Time Positions Available:

Certified Lifeguards & Swim Instructors
Before/After School Counselors
Group Exercise Instructors (evenings & weekends)
Welcome Center (evenings & weekends)
Child Care Teachers & Assistant Teachers

Full Time Positions are posted at ymca.org
Pool Schedule – Rahway Branch Summer 2022